Total Body Makeover
Have you ever felt like trading in your current body for a brand new one? Don't worry, you're not alone.
Each year, millions of Americans go on diets and fitness programs to dramatically change their bodies.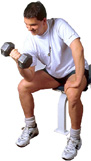 Unfortunately, the vast majority never get that body makeover and usually end up starting all over again with yet another New Year's resolution.
Total Body Makeover is a 90 day body transformation system & nutrition program that yields maximum results in minimum time.
I created Total Body Makeover to produce awe-inspiring results for men and women who desire extreme body changes. It's particularly effective for folks who have failed using other diet and fitness programs.
Have you ever tried a diet or fitness program that worked in the beginning but then it stopped working? This is a very common problem.
Total Body Makeover provides you fast but long term results as well, unlike other programs that lack a long term strategy for success.
My programs are based on the latest scientific research about burning fat and building muscle, so they will work for you, everytime as long as you apply the principles.
I'll even give you 30 days to decide if the program is right for you. If you don't get results, you can leave and I'll give you your money back.
How many other personal trainers would dare to do that? That's how confident I am in my programs.

Goals & Benefits — Total Body Makeover & Body Transformation System: