Healthy Recipe: Glazed Chicken & Couscous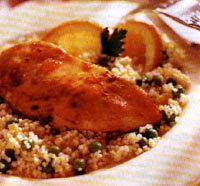 Transform your boring chicken dinner into a tasty, tangy delight with this amazing glaze. Spicy mustard, apricot preserves, and orange juice make this dish one to remember. Preparation time is only 25 minutes. Servings: 2
Here's what you need...
1/2 up frozen sweet peas
3/4 cup water
1/8 teaspoon salt
1/8 teaspoon ginger
1/2 cup uncooked couscous
2 tablespoons orange juice
1 tablespoon apricot preserves or honey
1/2 teaspoon spicy brown mustard
2 boneless skinless chicken breast halves
Place the peas, water, salt and ginger in a medium saucepan. Bring to a boil over high heat. Reduce heat to medium-low; cover and simmer for 2 minutes. Remove from heat; stir in couscous. Cover; let stand 5 minutes.
Meanwhile, in a small bowl, combine orange juice, preserves and mustard; mix until well combined. Pour half of mixture (about 2 tablespoons) into another small dish; reserve for topping. Brush chicken with remaining orange juice glaze; place on broiler pan. Broil 4 to 6 inches from heat for 5 minutes. Turn chicken. Brush again with glaze; discard any remaining glaze. Broil an additional 3 to 5 minutes or until chicken is fork tender and juices run clear.
Stir couscous mixture lightly with fork; divide evenly onto 2 serving plates. Top each with chicken, drizzle with reserved orange juice mixture.
Nutritional Analysis: One serving equals: 370 calories, 4g fat, 49g carbohydrate, 4g fiber, and 34g protein